Advantages of Buying a High Quality Sofa
We've all spent a lot of time in our homes over the past couple of years, which for many of us has prompted a re-evaluation of those spaces that we spend the most time in. As the centerpiece of any living space, choosing the right sofa is a decision everyone wants to get right.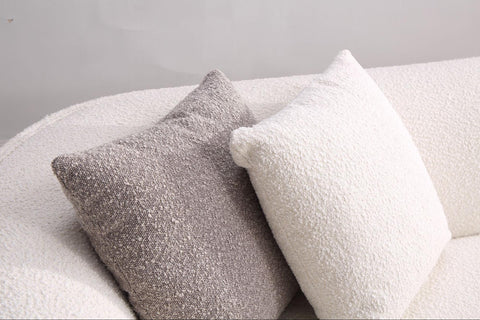 Formia Sectional Sofa by Acanva
After considering the fundamentals of what we are looking for in a sofa, it's tempting to take a look at what ticks all our boxes and simply go for the lowest price. Yet, cheaper sofas are often mass-produced and may cost more in the long-term when considering a range of factors. So, what are some of the advantages of buying a high quality sofa?
Durability
The main benefit of a quality sofa is that it will last longer and serve its purpose dutifully. A sofa should last for at least 7 years, and up to 30 years if well cared for. In comparison, a lower quality purchase that lasts only 5 years (or fewer) can soon become a liability.
Sustainability 
Furniture waste is sometimes referred to as the "forgotten waste stream" as it is generated less often than other kinds of waste. However, furniture pieces such as sofas are bulky and awkward to dispose of, meaning that 80% of the time they end up in landfill. A durable sofa is far better for the planet, especially when excellent craftsmanship often goes hand in hand with ethically sourced materials.
Comfort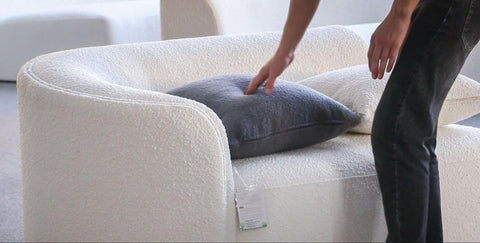 Comfort test on Formia Sectional Sofa by Acanva
It's true that comfortable looks and feels different for each individual, but well-made sofas are set apart by being designed with comfort in mind. From the ratio between the back height and the seat depth to the quality of the cushioning and suspension, a sofa made by skilled craftsmen can make a tremendous difference.
Care and Maintenance
Investing in a high quality sofa that we treat as an integral part of our home encourages us to take good care of it. While wear and tear is normal, new technologies employed by quality furniture makers can also help promote the life of a sofa by years, and even decades.
The Acanva Difference
Acanva's approach to creating high-quality furniture is different from those of its competitors. Each piece is produced by skilled craftsmen using the finest environmentally sustainable materials, ensuring that it is well-made, offers the highest level of comfort possible, and has a long lifespan.
If you need help deciding which sofa or sectional would be right for you, take a look at some of our other buying guides such as Key Features Of A High-Quality, Long-Lasting Sofa and What To Consider When Buying A Sofa to help you find the perfect piece for your space. As always, Acanva's award-winning support team is always available for any questions you may have.