Key Features Of A High-Quality, Long-Lasting Sofa
What makes for a high-quality, long-lasting sofa?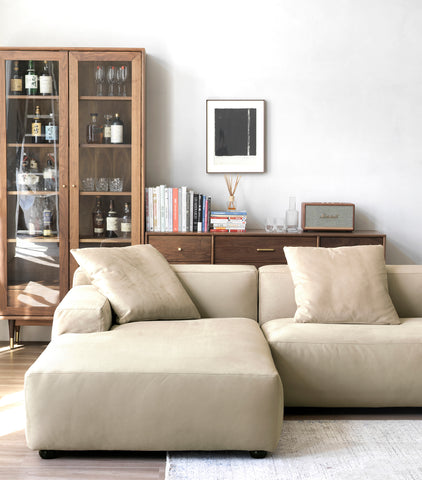 Marino Sectional Sofa by Acanva
That's a question we often receive at Acanva, especially from customers looking to make a crucial investment in elevating their living space. To help them navigate this process, the Acanva team has created the following guide to key features of any quality sofa.
The Frame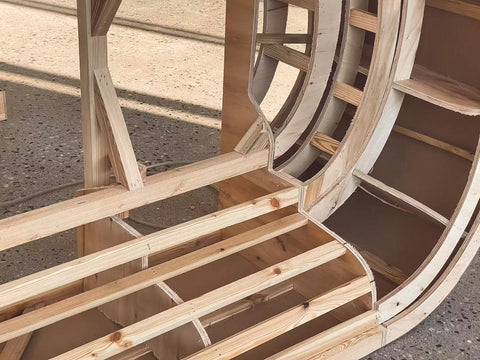 The sofa frame at Acanva factory
A high-quality sofa starts with a durable, well-made frame. The strongest ones are crafted from thicker boards crafted out of dense hardwoods like larch which do an excellent job at holding staples, nails, glue, and joinery in place. This makes an enormous difference in prolonging the life of any sofa, sometimes by decades.
The Suspension

Sinuous springs used in Acanva sofa
If a sofa's frame acts as its skeleton, its suspension is its tendons and ligaments.
While many low cost sofas use polypropylene webbing, which is the same material found in standard seat belts, sinuous springs offer more comfort and long-lasting support. Made with heavy-gauge steel wires bent into a continuous line of S-shaped coils, a well-made sinuous springs system will provide comfort, lasting durability, and a solid base for a sofa's cushioning.
The Cushioning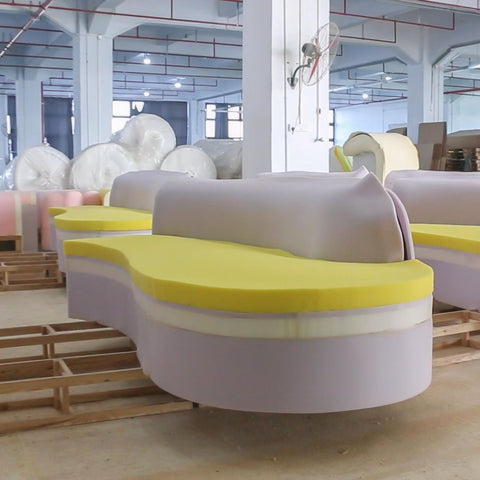 Different types of cushion used in Acanva sofa
After determining the quality of a sofa's frame and suspension, you will next ask yourself this. "What level of firmness do I want my sofa to have?"
Most sofas manufactured today use poly-wrapped foam, as it is highly resilient, responsive, and retains its shape over time. Innerspring core cushions are built directly into the frame, making the cushions non-removable and these are most often found on lower-quality sofas. Memory foam cushions are becoming increasingly popular, as its high density ensures durability and form-fitting functionality.
The Upholstery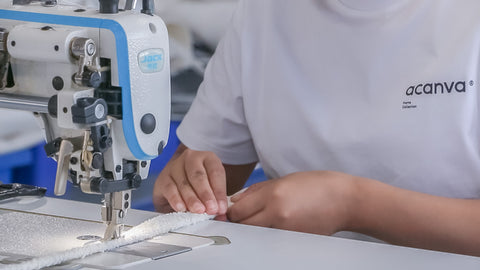 Sewing of fabric at Acanva factory
Upholstery matters, as it's what you - or your guests - will see and feel in the years after purchasing your sofa. If maintained well, certain fabrics can last for a decade or longer while also exhibiting your chosen style and taste.
The Acanva Difference
While many sofas today are mass produced with low-quality materials, Acanva takes a different approach. Each sofa is crafted by skilled craftsmen using wood from high-quality and environmentally sustainable Russian larch trees at a 1.5cm thick wood board, as opposed to the 1.3cm industry standard. After the frame is built, Acavan's craftsmen use three-layered, stacked structural foams and zigzag steel springs to ensure that each sofa provides long lasting comfort and support.
If you need help deciding which sofa or sectional would be right for you, take a look at some of our other buying guides such as What To Consider When Buying A Sofa and Advice From Acanva's Experts On Buying The Right Sofa to help you find the perfect piece for your space. As always, Acanva's award-winning support team is always available for any questions you may have.