What To Consider When Buying A Sofa
Buying a sofa can be a surprisingly difficult process. For so many of us, a sofa serves as the centerpiece of our homes and is therefore an important investment that has the potential to elevate any living space.
Here at Acanva, we're on a mission to help you showcase your taste, lifestyle, and represent who you are. We will break down some of the most important factors to consider when buying a sofa.
Consider Your Space & Needs
Perhaps the most important step in your sofa purchasing journey, we recommend that you start with considering the room within which your future sofa will reside. Some questions to consider. How large is it? Where will it be placed? How many people should it reasonably accommodate? These are the types of questions that you'll want to ask yourself.
Find An Ideal Size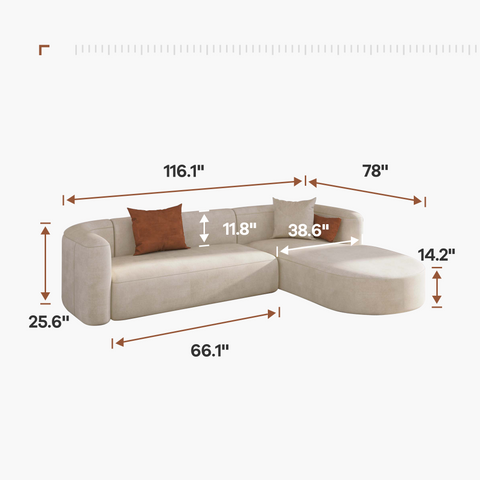 Mellow Sectional Sofa by Acanva
After confirming your space and needs, you'll want to measure your room to finalize the dimensions of your future sofa. Be sure to consider how long and deep you want your sofa to be as well as how high it should rest.
Match Your Interior & Style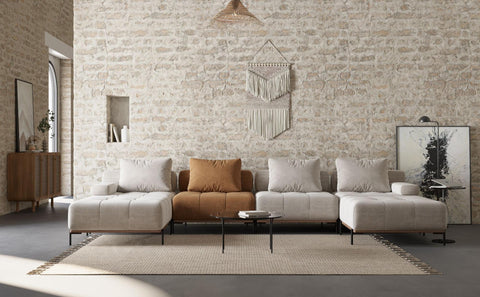 Nivala Modular Sofa by Acanva
Similar to any centerpiece, a sofa's style can - and should - say a lot about you. It's a reflection of who you are and a representation of your lifestyle. With dozens of sofa styles ranging from modular to chaise to Chesterfield, know that there are many options to choose from. 
While considering your future sofa's style, you'll also want to ensure that it matches the interior of your home, especially within the room in which your sofa will reside. When in doubt, choose neutral sofa fabric colors like beige, gray, taupe, and cream to be safe.
Sofa Type & Build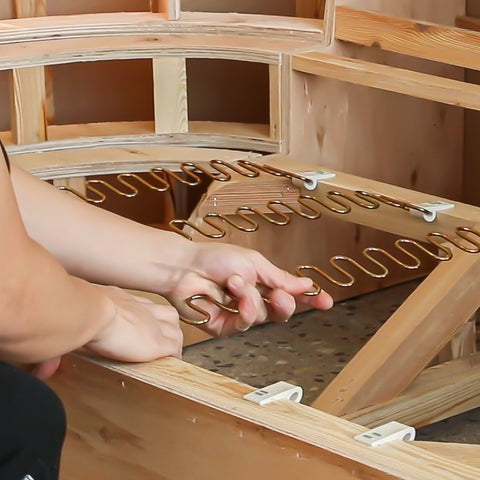 Acanva sofa production in Acanva factory
After you think about your space, needs, and ideal sofa size, you'll want to also consider the sofa type and build. Are you planning to place your sofa in a corner? While there are many potential options, perhaps an L-shape sofa is best for you.
In addition to choosing your sofa type, consider its build which includes the materials used in the frame, cushioning, and upholstery. Because so many sofas on the market today are mass produced in factories by unskilled workers, be on the lookout for manufacturers that use quality, sustainable materials; these help prolong the life of any sofa by a decade, and sometimes even longer than that.
Budget
Your budget will play a key role in your sofa purchase, but be sure to consider long-term costs as well. If you purchase a lower-quality piece, you may have to pay more to maintain or even replace it, as mass-produced sofas often have a shorter lifespan.
Request Swatches
Once you settle on a sofa shortlist, be sure to request swatches from the manufacturers. By doing this, you'll be able to get a better sense of feel, style, and quality of the upholstery. And, after all, requesting swatches is often free!
Maintenance
After you spend time and resources to purchase a sofa, you'll want to know how to care for it so that it stays as beautiful as it did when it first arrived in your home. While doing so may require the occasional steaming or the use of stain protection products, they are without doubt a worthwhile investment and will prolong the life of your sofa considerably.
When choosing your next sofa, be sure to consider the above factors. Doing so will not only make the process more enjoyable, but help you find a piece that you will treasure as it brings vibrancy and energy to your living space.
For more inspiration, take a look at Acanva's latest collection of sofas by clicking here or by visiting https://www.acanva.com/collections/couches. You might also want to hear what the experts got to advise on buying the right sofa.